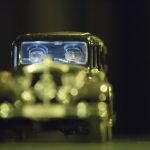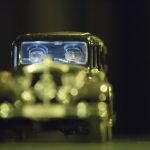 In a tunnel deep underground Hotel Modern is working on a new production. Gas masks, Indonesian antiques, ladies gowns, glue guns, miniature cameras and a bucket were recently passed down through a hatch. The sounds of a cyclone often escape the tunnel entrance. An empty vial of homesickness is lying under a bush.
And at nighttime light-pictures appear in the sky of a girl who has had two encounters with Death.
Hotel Modern will shortly leave the tunnel, and God's Beard will see daylight. You'll be able to see it in your theatre! Perhaps you'll be allowed to touch it...
"Clay figures act out heartrending tales with chilling precision. This time Hotel Modern's 'bouquet' of stories is more personal, and the emotions more recognisable. Deeply moving surrealism." (Volkskrant)
"God's Beard sees the return of impressive puppetry scenes. […] A cardboard box packed with wax figures creates a chilling depiction of the transport of Jews. [...] A story is illustrated in a delightfully melancholic way using flashbacks, in which we see tall trees being replaced with saplings to suggest a journey back in time." (NRC Handelsblad)
"Everything about God's Beard shouts of the enormous love that went into making it. The keen eye for detail in the maquettes, the sound effects and the music, the lighting, the camerawork and the decor are all perfectly combined to bring the story to life, and to do so convincingly. It doesn't matter whether the story being told is funny, absurd or sad, because Hotel Modern are utterly convincing and emotionally authentic every step of the way." (CultuurBewust.nl)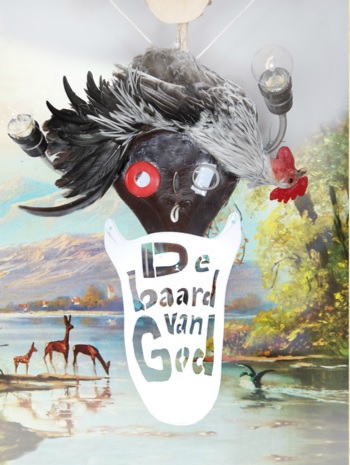 Reviews & articles

Lovable puppets in a godless world

Clay figures act out heartrending tales with chilling precision. This time Hotel Modern's 'bouquet' of stories is more personal, and the emotions more recognisable.

by Vincent Kouters, Volkskrant Read the whole review

Clay figures act out heartrending tales with chilling precision. This time Hotel Modern's 'bouquet' of stories is more personal, and the emotions more recognisable.

In God's Beard, the new maquette play by the Rotterdam-based theatre group Hotel Modern, we hear the sound of old man weeping, played back from an old tape recording. His voice cracking with emotion he talks about the last days of his own father who was betrayed, arrested by the German occupiers, and then sent to the concentration camp where he perished.
Meanwhile, the three actors onstage use live animation techniques (involving maquettes, clay figures and miniature cameras) to bring these scenes to life. The emotional narrative voice combines with the chilling precision of the accompanying scenes to create a heartrending story.

This is just one of the bouquet of stories making up God's Beard. 'Bouquet' is the word actor Pauline Kalker herself uses to describe her play – with some irony, because the recurring themes of this bouquet are death, grief, and transience.

Those already familiar with the work of Hotel Modern will not be surprised at the choice of this kind of subject matter. The company has for the last fifteen years been making consoling 'live animation dramas' about dark topics such as war and genocide (in their classics The Great War and Kamp, respectively) and even the end of humanity, as in last year's 'apocalyptic revue' Seaplane Mothership.

Actors Arlène Hoornweg, Pauline Kalker and Herman Helle explore their fantasies about death and destruction by filming cute little puppets in miniature film sets made of glued together pieces of cardboard and other junk. This contrast characterises the group's sometimes deeply moving surrealism.

In God's Beard death is closer to home than ever before. The stories are more personal this time, and the emotions more readily recognisable than in earlier work; Kalker explains that the voice of the man crying on tape belonged to her now deceased father.

Another story from the bouquet concerns a little girl with the same first name as Arlène Hoornweg. One day little Arlène is playing in the living room while a family tragedy unfolds in the adjacent room. From the child's perspective, we follow the sad events which ultimately span an entire lifetime. In this scene musician Arthur Sauer plays Chopin. At some moments it verges on the sentimental, but at others what we witness is deeply affecting.

A number of absurd interludes inject more variety. The most amusing ones are performed by Herman Helle. He explains that God was originally going to take part in the play, but that all of his scenes were deleted in the final edit. What he can display to us is the filthy, tattered beard that God left behind. Helle's arch tone makes this scene particularly amusing. And it's highly effective, too, because after these interludes Hotel Modern's godless world – in which mini people are struggling to survive – packs an even harder punch.

20-12-2012

Clay puppets bring absurd and sad stories to life

Everything about God's Beard shouts of the enormous love that went into making it. The keen eye for detail in the maquettes, the sound effects and the music, the lighting, the camerawork and the decor are all perfectly combined to bring the story to life, and to do so convincingly. It doesn't matter whether the story being told is funny, absurd or sad, because Hotel Modern are utterly convincing and emotionally authentic every step of the way.

by Pauline Weijs, CultuurBewust Read More

At the start of God's Beard one of the actors explains its structure: 'This play is a bouquet of flowers of many varieties.' And it does indeed consist of many different kinds of stories that explore familiar Hotel Modern themes such the Second World War and solace. This diversity leads both to deeply melancholy scenes and to lighter, more absurd moments. And the group manages to achieve this using 'only' clay puppets and maquettes.

What is unique about Hotel Modern is that in their plays, it is not the actors but tiny clay figures that take the leading roles. The human actors move these little puppets within the scale model sets on stage, meanwhile filming these scenes and projecting them onto a large screen. Anyone who thinks they can't be emotionally affected by these lifeless puppets is wide of the mark. Each and every one of stories is brought to life through the clever use of sound, light and dialogue, and you quickly find yourself identifying with the puppets.

One of the stories revolves around an elderly man recollecting the Second World War. His pre-recorded voice is played while the actors provide the visual accompaniment using the puppets, allowing us to both hear and see how the man had to go into hiding and how his mother was betrayed. The most powerful part of this story, however, is when the actors bring the narrator's father's story to the screen. We see how the clay figure representing the father is put onto a train to be transported to a concentration camp. The dim moving lights convey the shadowy and ominous atmosphere of people going to meet their fate without resistance. This is a fine example of just how detailed the scenes are, and this heightens the impact of stories. And it becomes extremely emotional when we watch the poor father's body being burned, while listening to the old man sobbing the last words he remembers his father speaking: 'be a man'.

Fortunately, there are also more light-hearted and absurdist scenes in God's Beard, such as when one of the actors explains how the play got its title. It turns out that the scenes in God played a role were all deleted from the final version, and only his beard remains. It can – literally – be seen in the play. But laughs can still be had watching some home videos God made of the creation. In a simple but highly amusing way, they show how 'God' created the world.

Everything about God's Beard shouts of the enormous love that went into making it. The keen eye for detail in the maquettes, the sound effects and the music, the lighting, the camerawork and the decor are all perfectly combined to bring the story to life, and to do so convincingly. It doesn't matter whether the story being told is funny, absurd or sad, because Hotel Modern are utterly convincing and emotionally authentic every step of the way.

25-12-2012

Small world with a big imagination

Despite seeing how the illusion is created you fall for it, and you are drawn into an imagined world.

by Erica Smits, Theaterkrant Read More

If you're looking for stories told using cardboard houses, cameras, miniature cars and sound effects, then look no further. Hotel Modern are the right people for the job. Starting with their impressive The Great War this trio of theatre makers has developed a unique dramatic form in which scale models, objects, cameras combine with huge imagination to evoke a small world. And they've done it once again in their latest production God's Beard.

In the first scene actress Pauline Kalker introduces the play as a mixed bouquet, or a box of chocolates with a variety of flavours, or a bus full of passengers, each with their own origin and their own destination, but all of them brought together for this moment.

And this is precisely the way in which the stories making up God's Beard have been brought together. The two most important stories concern Kalker's father and Arlène Hoornweg's parents. In the first story we hear a recording of the father in which he talks about the war years and going underground to escape arrest. He sounds old and asthmatic and he breaks down when it comes to discussing the death of his own father. The three actors (Kalker, Hoornweg and Herman Helle) and musician Arthur Sauer bring to life the events he recalls by animating puppets live on stage.
The second story starts off with a short stop-motion film that shows an animated version of Hoornweg clearing up her mother's house following her death. This leads into a series of flashbacks animated live in scale-model sets, taking us to a childhood playing on the living room floor, lying in bed listening to her mother playing the piano, and finding out about the early death of her father.

It remains fascinating to watch the three actors as they bustle about onstage, manipulating cameras, dollhouse-sized objects, tiny lamps, cardboard apartment blocks and miniature people – with the images they are filming being simultaneously projected on a large screen. Onstage we see Herman Helle holding a toy car as Kalker and Hoornweg hurriedly shift flat boards of background scenery featuring images of houses. On the screen, however, you see a car driving along a road. Despite seeing how the illusion is created you fall for it, and you are drawn into an imagined world.

There is no doubting the craftsmanship involved in this unique approach to theatre, which Hotel Modern have taken to theatres all over the world. And God's Beard is once again replete with striking images, amusing observations and affecting moments. But still there's something not quite right, because all of these striking images, amusing observations and affecting moments never amount to more than the sum of their parts. Although the play does ultimately work, it doesn't all linger long in the mind.

20-12-2012

A pity that God wasn't in it

God's Beard sees the return of impressive puppetry scenes. [...} A cardboard box packed with wax figures creates a chilling depiction of the transport of Jews. {...] A story is illustrated in a delightfully melancholic way using flashbacks, in which we see tall trees being replaced with saplings to suggest a journey back in time.

by Herien Wensink, NRC Handelsblad Read More

God was also supposed to appear in the play, explains Herman Helle, but in the end all the scenes he was in were deleted. But Helle does still have God's moth-eaten white beard, which he keeps in a valise. It is also got a few fun home videos of Creation. In one of them, 'God' peels and then squishes a banana, but because the film is played backwards, it looks like He is using the mashed fruit to conjure the perfect banana form and matching jacket.

It is a hilarious interlude in the new play by Hotel Modern, a group that is celebrated internationally for its ingenious approach, which involves using doll houses and finger-sized cameras to create astonishingly convincing worlds.

God's Beard also sees the return of impressive puppetry scenes. We listen to an audio interview with actress Pauline Kalker's father while his war stories are brought to life before us using live puppetry – such as when a cardboard box packed with wax figures creates a chilling depiction of the transport of Jews. Another personal story, this time one from the life of actress Arlène Hoornweg, is illustrated in a delightfully melancholic way using flashbacks, in which we see tall trees being replaced with saplings to suggest a journey back in time.

Other scenes are less successful, such as musician Arthur Sauer's rather sordid song about his desire for a fat Brazilian lover. The aeroplane metaphor that frames the play is also unconvincing. The individual fragments do not build into a single narrative, and it never develops further than explorations of topics such as time, transience, death and solace. Sometimes they are successful; sometimes they are less so. So it's a pity that God wasn't in it.

24-12-2012

Lovable puppets in a godless world

Clay figures act out heartrending tales with chilling precision. This time Hotel Modern's 'bouquet' of stories is more personal, and the emotions more recognisable. Deeply moving surrealism.

by Vincent Kouters, Volkskrant Read the whole review

Clay figures act out heartrending tales with chilling precision. This time Hotel Modern's 'bouquet' of stories is more personal, and the emotions more recognisable.

Deeply moving surrealism
In God's Beard, the new maquette play by the Rotterdam-based theatre group Hotel Modern, we hear the sound of old man weeping, played back from an old tape recording. His voice cracking with emotion he talks about the last days of his own father who was betrayed, arrested by the German occupiers, and then sent to the concentration camp where he perished.
Meanwhile, the three actors onstage use live animation techniques (involving maquettes, clay figures and miniature cameras) to bring these scenes to life. The emotional narrative voice combines with the chilling precision of the accompanying scenes to create a heartrending story. This is just one of the bouquet of stories making up God's Beard. 'Bouquet' is the word actor Pauline Kalker herself uses to describe her play – with some irony, because the recurring themes of this bouquet are death, grief, and transience.

Those already familiar with the work of Hotel Modern will not be surprised at the choice of this kind of subject matter. The company has for the last fifteen years been making consoling 'live animation dramas' about dark topics such as war and genocide (in their classics The Great War and Kamp, respectively) and even the end of humanity, as in last year's 'apocalyptic revue' Seaplane Mothership.

Actors Arlène Hoornweg, Pauline Kalker and Herman Helle explore their fantasies about death and destruction by filming cute little puppets in miniature film sets made of glued together pieces of cardboard and other junk. This contrast characterises the group's sometimes deeply moving surrealism.

In God's Beard death is closer to home than ever before. The stories are more personal this time, and the emotions more readily recognisable than in earlier work; Kalker explains that the voice of the man crying on tape belonged to her now deceased father.

Another story from the bouquet concerns a little girl with the same first name as Arlène Hoornweg. One day little Arlène is playing in the living room while a family tragedy unfolds in the adjacent room. From the child's perspective, we follow the sad events which ultimately span an entire lifetime. In this scene musician Arthur Sauer plays Chopin. At some moments it verges on the sentimental, but at others what we witness is deeply affecting.

A number of absurd interludes inject more variety. The most amusing ones are performed by Herman Helle. He explains that God was originally going to take part in the play, but that all of his scenes were deleted in the final edit. What he can display to us is the filthy, tattered beard that God left behind. Helle's arch tone makes this scene particularly amusing. And it's highly effective, too, because after these interludes Hotel Modern's godless world – in which mini people are struggling to survive – packs an even harder punch.

20-12-2012
Tourdates God's Beard

View all our tourdates in the agenda
Makers

Makers and cast Arlène Hoornweg, Herman Helle, Pauline Kalker Sound concept and  live performance Arthur Sauer Set assistants Heleen Wiemer, Mirijam Neve Technician André Goos Subsidy Performing Arts fund NL, City of Rotterdam