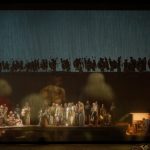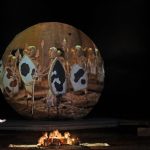 Moses in Egypt was co-produced by the Bregenz Festival and Opera Cologne.
Stage director Lotte de Beer invited Hotel Modern to contribute to her staging of Rossini's opera Moses in Egypt, an opera version of the biblical tale of Moses and the Exodus from Egypt.
Hotel Modern and the opera singers, choir and symphony orchestra performed Moses in Egypt for the first time at the 2017 Bregenz Festival in Austria. In 2018, the opera was staged at Opera Cologne in Germany.
This universal story, with its themes of migration and inability to deal with power, has lost none of its urgency and topicality. While the soloists and choir relate the tale of the pharaoh and the conflicts in his family, Hotel Modern use live animations to portray the mass scenes and the parallel narrative of the people and the slaves. Using miniature cameras, thousands of puppets, models villages and cities in the desert and a spectacular aquarium installation, Hotel Modern brings to the stage the seven plagues of Egypt, a people in uprising, Moses parting the Red Sea, and the pharaoh's army being swallowed by the waves.
The opera is a unique collaboration between Lotte de Beer and Hotel Modern. Lotte de Beer is one of the most sought-after stage directors of her generation. In 2015 she won the International Opera Newcomer Award. She has directed many successful operas for opera houses throughout Europe. De Beer approached Hotel Modern for her adaptation of Moses in Egypt because she sees their method as ideal for reimagining the tale. Hotel Modern fill the stage with their hand-made scale models, and the actors move among them to give life to the thousands of small puppets. The actors use miniature cameras to film the scenes they are creating and project the images live, creating a spectacular illusion.
"First, God torments the Egyptian people with all manner of scourges: swarms of insects, diseases and darkness. Then the curtain rises and the opera begins. For this staging of the epic tale Dutch director Lotte de Beer is joined by her compatriots from Hotel Modern, the theatre company that specialises in all things miniature. They film their tiny puppets and scale models and project the resulting images live onto a large sphere on the stage. The emotional power of these scenes is very impressive." (Der Standard)
"Hotel Modern create truly affecting scenes." (Schwabmünchner Allgemeine)
"An astonishing interpretation of this Biblical story." (Ostschweiz am Sontag)
"Etched into the face of the tiny puppets are the kind of expressions we see so often on the news, in scenes of war, persecution, siege and torture." (Stuttgarter Zeitung)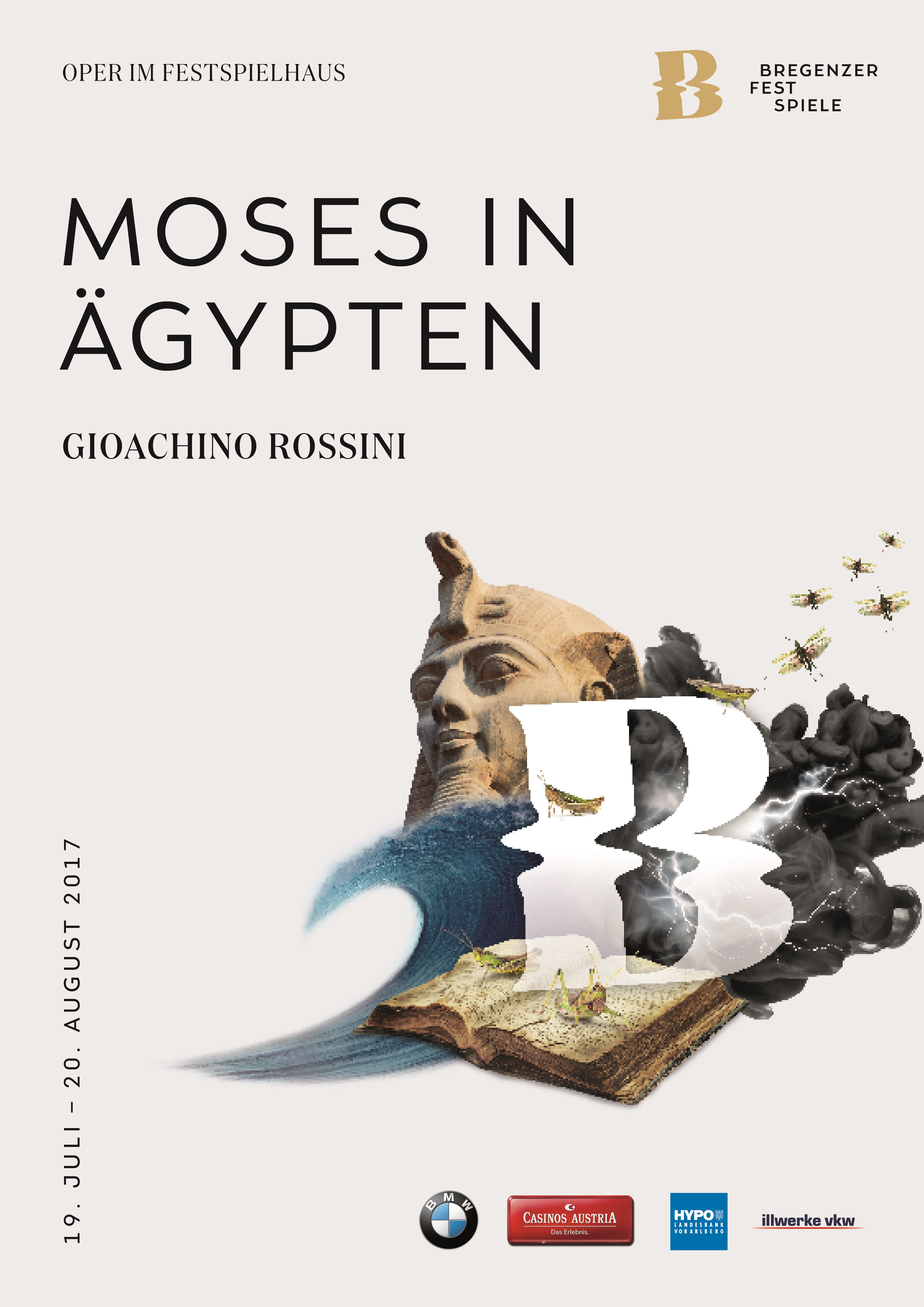 Reviews & articles

God's laboratory

Dutch director Lotte de Beer devised a solution, that is as ingenious as it is elegant. She sought the help of Hotel Modern theatre company, whose work merges visual art, puppetry and film. And the group applied these same techniques in its playful but by no means insignificant contribution to the production.

by Elisabeth Schwind, Südkurier Read the whole review

How on earth do you bring God's wrath to the stage? That's what it's ultimately all about in Gioachino Rossini's opera Mosè in Egitto (Moses in Egypt), in which the pharaoh refuses to allow the enslaved Israelites to leave Egypt, whereupon God afflicts the land with a series of plagues.

The opera starts with the stage in pitch darkness. The pharaoh, played by Andrew Foster-Williams, summons Moses (Goran Jurić) to get him to put an end to the nightmares, promising that if he does he will let Moses and his people go. But it is barely morning when the pharaoh changes his mind, prompting Moses to implore God to unleash the next plague. This continues back-and-forth a number of times. At the root of the pharaoh's indecisiveness is his son Osiride, who is exerting his influence over his father because he is secretly in love with the Israelite Elcia and wants to prevent her leaving. Ultimately, the Israelites flee through the Red Sea, which, at the moment supreme, parts to let them pass, and the Egyptians who are chasing them drown in the waves.

How does one go about staging an event such as this? At first the only option would seem to be a leaden historical re-enaction. But nowadays film would be a better medium for this approach. Another option would be an abstract solution suited to the stage, thus avoiding the necessity of presenting realistic scenes of plagues and sea-parting. Dutch director Lotte de Beer devised a quite different solution, one that is as ingenious as it is elegant. She sought the help of Hotel Modern theatre company, whose work merges visual art, puppetry and film. And the group applied these same techniques in its playful but by no means insignificant contribution to the production in Bregenz.

On stage, Herman Helle, Arlène Hoornweg and Pauline Kalker set up their little tables and populate them with puppets. The audience sees them beavering away like lab technicians – the underlying idea being that they have taken the role of God. Precisely what he is doing, we don't know. We see only the results of his actions, which the theatre company projects live from their table-stage onto an earth-like globe. We see the darkness receding, and we witness famine, war, torture, rape and death.

This production certainly harbours the germs of religious criticism in its portrayal of a god for whom the world is a miniature laboratory where he can conduct experiments to his heart's content. And it appears that he is not omnipotent after all. Time and again he tries to move characters to some other spot on the stage, but these people aren't about to let themselves be pushed into one direction or another. And when at last Moses prophesies the death of the pharaoh's son Osiris, the gods have no choice but to act, prompting them to feverishly rummage around in their bags in search of the right tools for the job. They clearly haven't thought in advance about how this disaster would play out. This raises the question of who is controlling whom. Is god controlling the people, or is it the other way around after all?

The beauty of this format is that the opera is not tampered with and does not descend into preachiness at any point. On the contrary, in fact, because it reflects the lightness of touch that characterises Rossini's music, which is playful throughout despite the ponderous historical theme. This is thanks in large part to the musical direction of Enrique Mazzola. The Vienna Symphony Orchestra sounds effervescent and exuberant, and the same is true of the ensemble. Clarissa Costanzo in particular comes across as a refreshing and original Elcia who is far from being an obedient follower of Osiris, played by the supple tenor Sunnyboy Dladla. Rossini's music is already more comic than tragic in the scene in which the couple attempt to flee but are discovered by Aronne (an intense Matteo Macchioni) and the pharaoh's consort Amaltea (a moving performance by Mandy Fredrich) and then told off like schoolchildren. In this production, music, staging and direction merge to form a single harmonious whole.

22-07-2017
Tourdates Moses in Egypt

View all our tourdates in the agenda
Makers

Musical director Enrique Mazzola (Bregenz) / David Parry (Cologne) Stage director Lotte de Beer Stage and costume designer Christof Hetzer Theatre group Hotel Modern Herman Helle, Arlène Hoornweg, Pauline Kalker, with assistance of Heleen Wiemer Lighting designer Alex Brok Choral director Lukáš Vasilek (Bregenz) / Andrew Ollivant (Cologne) Dramaturg Peter te Nuyl, Olaf A. Schmitt Choir Prague Philharmonic Choir (Bregenz) / Choir of Opera Cologne (Cologne) Orchestra Vienna Symphony Orchestra (Bregenz) / Gürzenich-Orchester Köln (Cologne) Photography Karl Forster Soloists: Faraone Andrew Foster-Williams (Bregenz) / Joshua Bloom (Cologne) Amaltea Mandy Fredrich (Bregenz) / Adriana Bastidas-Gamboa (Cologne) Osiride Sunnyboy Dladla (Bregenz) / Anton Rositskiy (Cologne) Elcia Clarissa Costanzo (Bregenz) / Mariangela Sicilia (Cologne) Mambre Taylan Reinhard (Bregenz) / Young Woo Kim (Cologne) Mosè Goran Juric (Bregenz) / Ante Jerkunica (Cologne) Aronne Matteo Macchioni (Bregenz) / Sunnyboy Dlada (Cologne) Amenofi Dara Savinova (Bregenz) / Sarah Jo Benoot (Cologne)