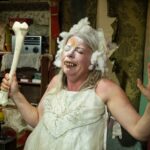 Hotel Modern presents Private Domain, a set of three intimate and immersive online performances, one by each member of the group. Private Domain was performed online, exclusively on Saturday 24 April 2021 via the website of Nineties Productions.
In Private Domain, Arlène Hoornweg gives a poignant portrayal of a passionate woman who, despite being haunted by malevolent hallucinations, still believes in true love. In a beauty vlog that spirals increasingly out of control, she reveals her beauty secrets – and the depths of her soul.
Pauline Kalker plunges into Time itself as she enters a world populated by paper animations, to embark on a search for her unborn children. Artist Heleen Wiemer made the animations to accompany this reimagining of the sometimes warped grieving process that can follow a miscarriage or abortion.
Ever since Hotel Modern's international breakthrough in 2001, Herman Helle has been filming the corridors of the often vast hotels where the group has been staying on their foreign tours. He has used these images to create a kaleidoscopic collage especially for Private Domain, with music by Christiaan Verbeek.
And rumour has it that a Theremin-playing Bear (an incarnation of Ruud van der Pluijm) will be giving a guest performance.
Nineties' Lab was coproduced by Nineties Productions, Likeminds, Feikes Huis, Performance Technology Lab and Over het IJ.
---
Tourdates Private Domain

View all our tourdates in the agenda
Makers

Hotel Modern:
Concept, performers Pauline Kalker, Arlène Hoornweg Creators Pauline Kalker, Arlène Hoornweg, Herman Helle, Heleen Wiemer Music Ruud van der Pluijm, Christiaan Verbeek Production Tineke Verheij Thanks to Trudi Klever, Jacqueline de Maat
Nineties Productions:
Artistic leaders Anne-Maike Mertens, Yannick Noomen Scenography Julian Maiwald Video design Karl Klomp Production Merel Hobrink Technical production Floris Vermist Creative producer Vevi van der Vliet Graphic design Joost de Haas

Nineties Lab is coproduced by Nineties Productions, Likeminds, Feikes Huis, Performance Technology Lab and Over het IJ