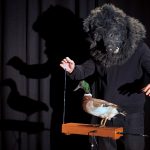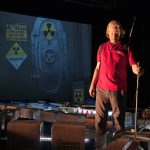 Seaplane Mothership is an apocalyptic review featuring old books, short films, scenes from After The Bomb, pop art science fiction, gnomes and poets.
You will see a self made disaster movie and a series of slides about the beauty of mistakes, and hear extracts from the logbook of the captain of a space ship that lost its way 500 years ago.
All in all, then, an enjoyable evening's entertainment on the fragility of humankind and the devastation of the world.
Hotel Modern won the 2011 VSCD Mime Award for Seaplane Mothership. From the jury report:"In Seaplane Mothership, visual artist and theatre maker Herman Helle is at the centre of a confusing and surprising world. Time and time again the scenes he composes go off balance, and each time they posess a great beauty."
"What starts with the destruction of art culminates in the end of a civilization." (NRC Handelsblad)
"What we're seeing here is thoroughly absurdist, what began as uproarioushly funny starts to grate - is this still funny?" (Parool)
"The message is this: everything dies or breaks down. This simple fact inspired the group to such a diversity of dramatic and visual extravagances that the result is a work of unprecedented originality - one that raises a smile despite the gloomy subject matter. Sometimes nothing can match the beauty of total destruction." (Volkskrant)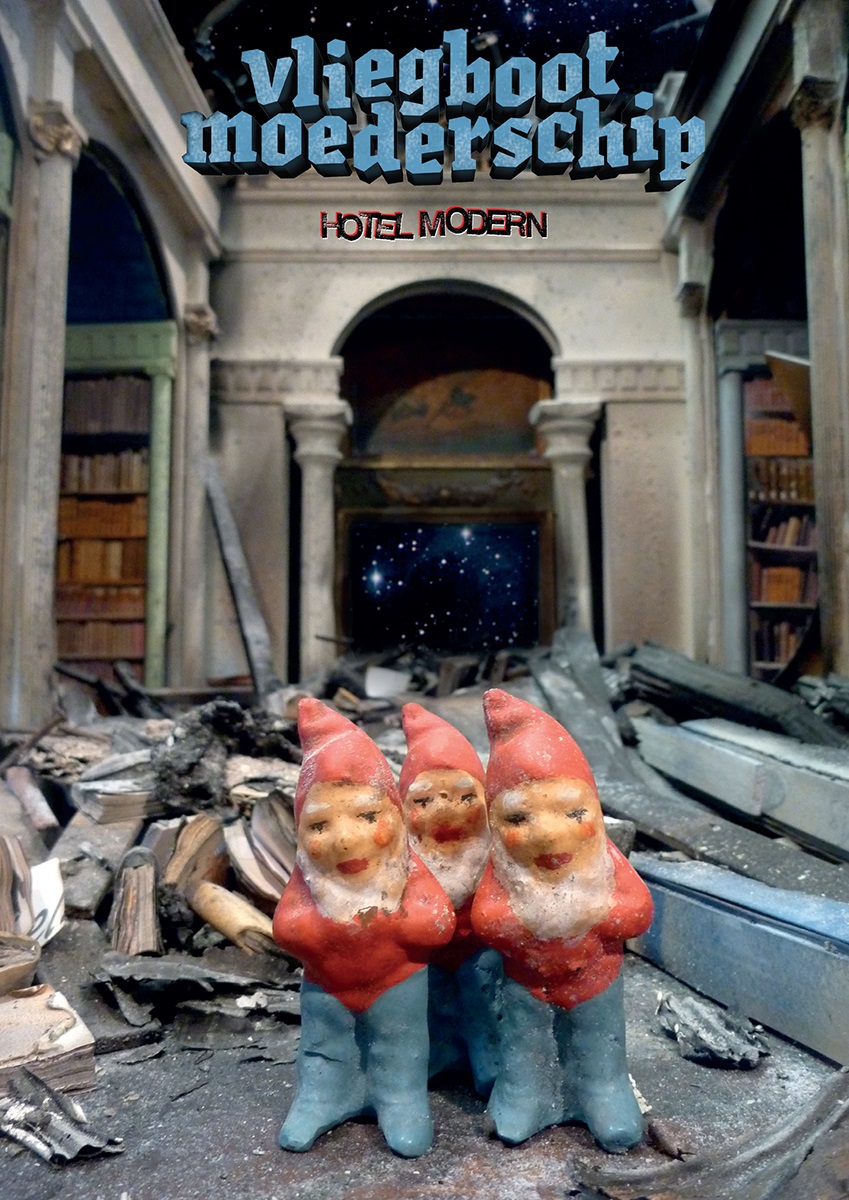 Reviews & articles

A sadistic gnome tells all

Onboard is a cross-section of human 'civilisation': from a guillotine to a bowling alley and from Mengele to Mozart. When the captain realises that the oxygen is running out he bids a moving farewell to the earth. The sensitive subject matter sees Hotel Modern skirting the perimeter of pathos, and the result is a performance that brings laughter and tears – just like life itself.

by Herien Wensink, NRC Handelsblad Read the whole review

Seaplane Mothership by Hotel Modern is an apocalypse in miniature – a major theme compacted into a puppet-sized set. Hotel Modern and their form of object theatre previously made a great impression on audiences with productions such as The Great War (about the First World War), and Kamp (about the holocaust).

The abstract nature of their work creates a sense of distance from the subject, which heightens the impact of the trimmed back, lucid content. This time Hotel Modern have taken the end of humanity as their theme – and succeeded. To begin, Herman Helle acts out a series of individual scenes whose interconnectedness gradually emerges and becomes clear.

We see a morbidly curious citizen who has taken photographs of himself at car accidents and we see a sadistic gnome giving a demented account of various methods of torture that humans employ. This is followed by a disturbing short film in which ceramic garden gnomes set about destroying cultural treasures: statues are pushed from pedestals; books go up in flames. What starts as the destruction of art culminates in the end of a civilisation, as illustrated by the terrifying series of photos of dead bodies.

Although some of the photos are clearly staged, others might as easily be genuine, such as the fatal domestic accident and the drowning victim. This uncertainty about the veracity of the images provokes confusion and alarm.

There then follows an astonishing live animation film. Helle dexterously manoeuvers a handheld video camera along a futuristic circuit of corridors made by Hotel Modern from removal boxes and found objects. On the screen, this circuit is transformed into the interior of a spaceship.

Onboard is a cross-section of human 'civilisation': from a guillotine to a bowling alley and from Mengele to Mozart. When the captain realises that the oxygen is running out he bids a moving farewell to the earth. The sensitive subject matter sees Hotel Modern skirting the perimeter of pathos, and the result is a performance that brings laughter and tears – just like life itself.

31-03-2011

Dramatic and visual extravagances make for a work of unprecedented originality

Halfway through a film is shown that typifies the group's sense of absurdism. A gorgeously lit scale model of an old-fashioned library is occupied by gnomes with evil on their mind. They push over bookcases and set everything alight. They look on contentedly in their red hats as the entire construction goes up in an impressive blaze. Sometimes nothing can beat the beauty of total destruction.

by Vincent Kouters, Volkskrant Read the whole review

Everything dies or breaks down in this 'apocalyptic revue'. Despite the gloomy subject matter, laughter is never far away.

A scale model of a spaceship spans out across the entire stage. The engine room is constructed from computer parts. A bunch of old mobile phones play the part of a mega-transmitter scouring space for habitable planets. There is a nursery full of rotting vegetables and a mortuary with rows of bodies in plastic bags. All are connected by long metal corridors.

Theatre maker and visual artist Herman Helle walks a small video camera through the scale model. While the images come to life on a large projection screen he reads out disconcerting extracts from his logbook.

The spaceship, it emerges, has been cruising aimlessly through space for hundreds of years. And now pig aids has broken out and the crew and rations have become infected: if they don't find a planet with a favourable climate soon they will all suffocate.

Together with Pauline Kalker and Arlene Hoornweg, Helle is a core member of Hotel Modern theatre company from Rotterdam. The group specialises in this kind of onstage live animation. For previous pieces they constructed and presented onstage a community of shrimps and a concentration camp. Death and transience are recurrent themes throughout their oeuvre – as they are again in Seaplane Mothership.

The account of a spaceship faced with extinction is only one act of the play. This is no great pity because although the construction is both ingenious and a visual treat, the story that accompanies it is less well devised and concludes rather predictably. But there is a lot more to this 'one-man show' than only this scene. Helle also performs a comical flower-arranging act, for example. A little later he is a doctor giving a talk on ceramics. The doctor has a passion for dinner plates, and is particularly fascinated by their fragility. Helle also presents a bizarre slide show of snaps he took of himself with, in the background, car accidents, arrests taking place, and animals – both dead and living. His dry comments about them lend a twisted hilarity to this protracted series of fatal and non-fatal errors. So what is the message of this 'apocalyptic revue', as the group itself describes this production? Everything dies or breaks down. This simple departure point has inspired the group to such a diversity of dramatic and visual extravagance that the outcome is a work of unprecedented originality – one that raises a smile despite the gloomy subject matter.

Halfway through Seaplane Mothership a film is shown that typifies the group's sense of absurdism. A gorgeously lit scale model of an old-fashioned library is occupied by gnomes with evil on their mind. They push over bookcases and set everything alight. They look on contentedly in their red hats as the entire construction goes up in an impressive blaze. Sometimes nothing can beat the beauty of total destruction.

01-04-2011
Tourdates Seaplane Mothership

View all our tourdates in the agenda
Makers

Maker and performer Herman Helle Music and sound Ruud van der Pluijm Director Pauline Kalker  Stage assistant Heleen Wiemer Set assistants Mirijam Neve, Ineke Kruizinga, Dirk Vroemen, Stefan Gross, Marleen van der Lecq, Marije de Wit, Joost ten Hagen Costume Barbara Witteveen Bear mask Kirsten Hutschemakers Technicians André Goos, Joris van Oosterhout Photography Herman Helle, Leo van Velzen Poster & flyer Sibe Kokke/notdef i.c.m. Hotel Modern Subsidy Performing Arts Fund NL, City of Rotterdam With thanks to Arlène Hoornweg