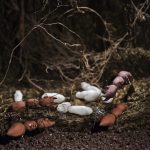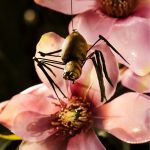 This coproduction of Hotel Modern and the Netherlands Wind Ensemble depicts the rise and fall of an insect empire, inspired by Wagner's 'Der Ring des Nibelungen'. In this powerful and poetic reimagining of Wagner's violent world of treachery, power struggles and strangled love, spectacular lifelike insects marionettes take the roles of gods, goddesses and giants.
While the Netherlands Wind Ensemble play their adaptation of this dramatic opera like lives depend on it, Hotel Modern fill the stage with magnificent landscapes populated by praying mantises, dung beetles and ant colonies.
A dazzling vision of this insect realm, where the cruel laws of nature come to life in their purest form.
"The combination of those handycrafted artists from Hotel Modern and the musicians of the Netherlands Wind Ensemble is a dream come true. Together, they have created a cleverly constructed piece in which music brings the animal realm to life." (Trouw)
"Hotel Modern ingeniously present a grand narrative on a small scale. [...] And so we see again that their power lies in the ability to evoke disproportionately grand emotions from the most humble materials." (Volkskrant)
"This is not simply a film with background music, or a concert accompanied by imagery. Here, the video, the actors and the musicians are all equally prominent. [...] This is true 'Gesamtkunst', a compound of artistic disciplines that Richard Wagner keenly advocated." (Cultuurbewust)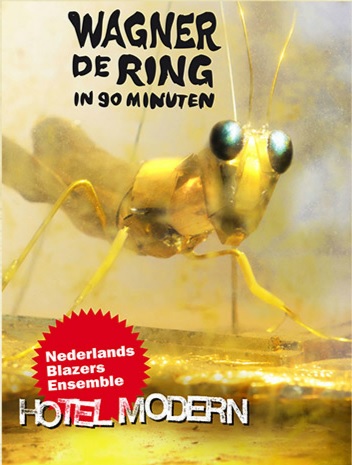 Reviews & articles

Press quotes

A multimedia spectacular: not one moment of boredom for anyone watching.

by various Read the whole review

The combination of those handcrafty artists from Hotel Modern and the musicians from the Netherlands Wind Ensemble is a dream come true. Together, they have created a cleverly constructed piece in which music brings the animal realm to life. (Trouw)

Hotel Modern ingeniously present a grand narrative on a small scale. […] And so we see again that their power lies in the ability to evoke disproportionately grand emotions from the most humble materials. (Volkskrant)

At various points throughout the piece, we see insects dancing beautifully choreographed steps to the evocative sound of the Netherlands Wind Ensemble. […] The brass grunts, blares, sand sparkles, the lithe woodwind seduces us, while the double bass and percussion add yet more colours to the picture. […] The Ring deserves more than the ten performances planned in the Netherlands. (Theaterkrant)

This is not simply a film with background music, or a concert accompanied by imagery. here, the video, the actors and the musicians are all equally prominent. And deservedly so, because they are all more than worthy of the attention they receive. […] In this case, the backstage work should be seen: this is true 'Gesamtkunst', a compound of artistic disciplines that Richard Wagner keenly advocated. (Cultuurbewust)
Tourdates The Ring in 90 Minutes

View all our tourdates in the agenda
Makers

Hotel Modern
Visual concept and design Herman Helle Script and performance Herman Helle, Pauline Kalker, Arlene Hoornweg, Anouk Driessen Stage assistant Mirijam Neve Score prompter Jan Lodewijk Eshuis Set and puppetry assistants Heleen Wiemer, Dirk Vroemen, Stefan Gross Technicians André Goos, Joost ten Hagen Advice EIS Kenniscentrum Insecten

Netherlands Wind Ensemble
Artistic director Bart Schneemann Managing Director Niek Wijns Production Elena van Slogteren Lighting James Murray Stage manager Luc Kossen Musicians Jeannette Landré, Bart Schneemann, Harmen de Boer, Gerrit Boonstra (2013), Jesse Faber (2017), Dorian Cooke, Johan van der Linden, Willem van Merwijk, Ron Schaaper, Toine Martens (2013), Margreet Mulder (2013), Kirsten Jeurissen (2017), Mirjam Steinmann (2017), Andre Schoh (2013), Saleem Kahn (2017), Alexander Verbeek, Brandt Attema, Wilmar de Visser, Peter Prommel (2013), Yu-Ling Chiu, Laura Trompetter (2017)

The production of The Ring in 90 Minutes was made possible by Stichting Bevordering van Volkskracht, G.Ph. Verhagen Stichting, Erasmus Stichting, Prins Bernhard Cultuurfonds, SNS Reaal Fonds, BUMA Cultuur, BNG Cultuurfonds, Stichting Dioraphte, NBE's Lotgenoten, Performing Arts Fund NL, City of Amsterdam, City of Rotterdam